info
Contact us
ESUS IT Aleksandra Drobińska
Somosierry 30a
71-181 Szczecin
Poland
Questions about ordering online (Mondays to Fridays from 8:00 to 16:00):
E-Mail: sales@esus-it.com
Online-Chat on the site: www.esus-it.fr
Sales tax identification number: PL 672 192 76 64
CEO: Szymon Drobiński
The European Commission provides a platform for online dispute resolutions (ODR) which can be accessed at
http://ec.europa.eu/consumers/odr/. We do not intend to participate in dispute settlement proceedings before a dispute resolution body.
Privacy Policy by TMG: https://www.esus-it.com/privacy-policy-cterms-eng-12.html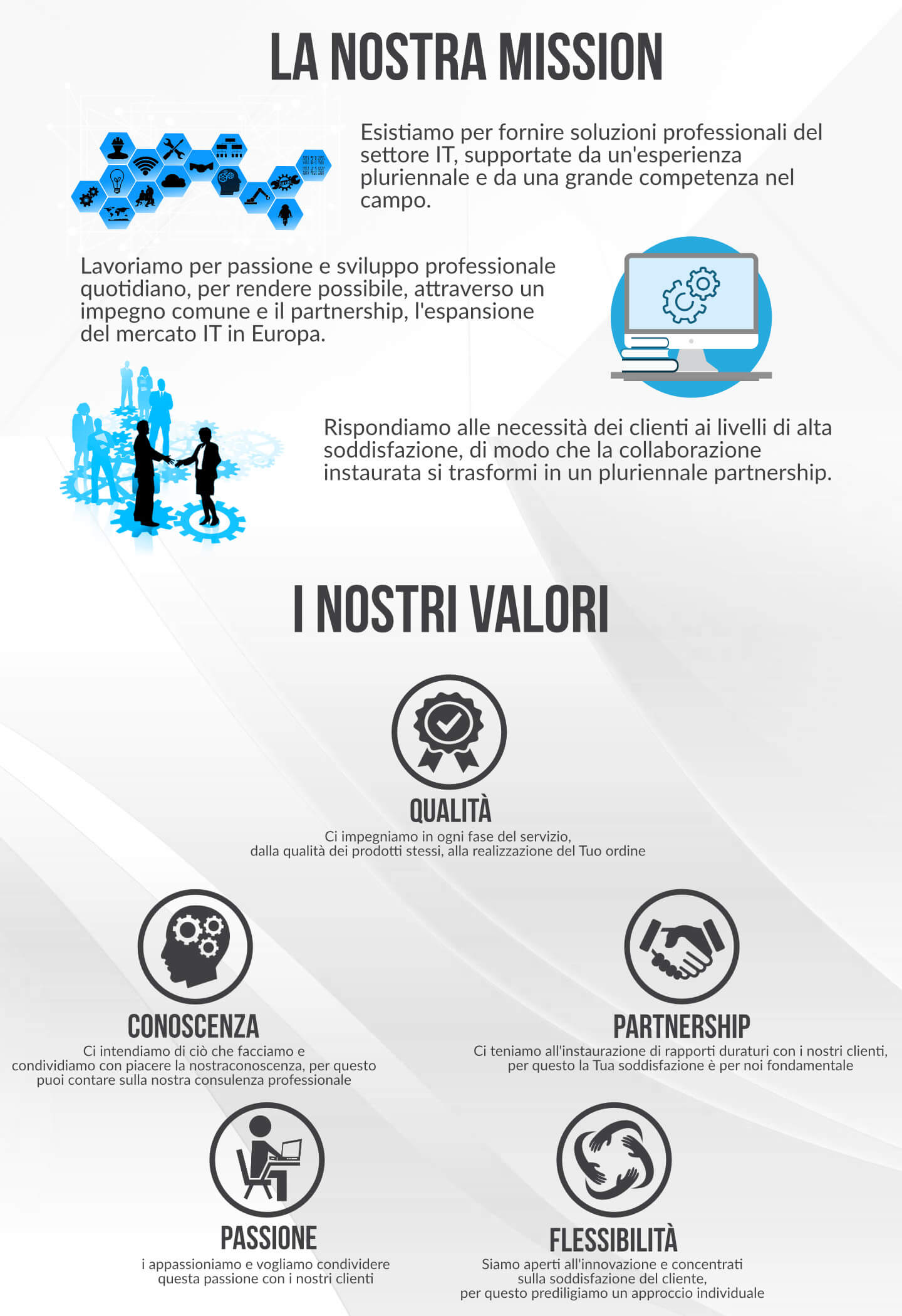 ESUS  IT fu fondata nel 2008.
Per iniziare, vorremmo presentarvi la nostra azienda, che non è un semplice negozio online. La storia della nostra azienda iniziò con la vendita e la selezione dei moduli di memoria RAM. Inizialmente il portale ESUS IT nacque in risposta ai bisogni dei nostri Clienti, i quali più volte e non senza difficoltà cercavano di ritrovare "una memoria compatibile" per un dato modello di server, stazione di lavoro, portatile o computer APPLE. Con il passare del tempo, continuammo a sviluppare il business per diventare dei leader nella vendita di moduli di memoria RAM nella nostra regione. Nella nostra offerta si possono trovare prodotti dei principali produttori della memoria RAM, come Samsung, Hynix, Micron, Crucial e un vasto assortimento di memorie dedicate per le soluzioni delle marche come: Asus, Asrock, Cisco, Dell, Fujitsu, HP/HPE, IBM, Intel, Lenovo, Oracle, Supermicro, Tyan, Gigabyte.
Possediamo anche una conoscenza indispensabile per la scelta delle soluzioni per l'archiviazione dei dati. Vi aiuteremo a trovare il giusto disco SSD (Intel, Micron, Samsung, Western Digital) oppure HDD (Western Digital, Seagate, Toshiba) tra i nostri produttori principali. Offriamo anche soluzioni nuove e usate, dedicate ai server HP, DELL, LENOVO, IBM. In aggiunta, offriamo anche gli enclosure per le unità di archiviazione come Qnap e Synology e le soluzioni di tipo JBOD e JBOF di Western Digital.
Rispondendo alle necessità dei nostri clienti, abbiamo aggiunto al catalogo i prodotti come: Access Point (Punto di accesso alla rete), Switch di rete, Firewall, Telecamere IP, Cablaggi, Moduli SFP, Router, Schede di rete, Antenne, Telefonia VOIP e soluzioni Security (di sicurezza) della rete delle marche come: Ubiquiti, Mikrotik, Netgear, HPE, Zyxel.
Venendo incontro alle Vostre aspettative, abbiamo reso intuitiva la navigazione sul nostro sito, nel modo tale da sfogliare in un modo semplice e efficace la nostra offerta. Desideriamo che non abbiate nessun dubbio sulla giusta scelta degli accessori server come, per esempio: processori, controllori, alimentatori o altri componenti presenti sul nostro sito web. Il nostro assortimento si espande continuamente nel settore IT, soprattuto per via della domanda creata dai nostri clienti. La nostra offerta continuerà a ingrandirsi nella direzione delle soluzioni complessive dell'infrastruttura di rete e server e per quanto riguarda gli elementi di archiviazione dei dati e di backup. Grazie a ciò Vi sarà possibile acquistare tutti i dispositivi indispensabili.
Perché vale la pena di dare fiducia all'azienda ESUS IT?
- Da 11 anni consigliamo e aiutiamo nella scelta di soluzioni ottimali
- Un team di appassionati Vi aiuterà volentieri nella scelta dei dispositivi adeguati, adatti alle necessità e alle aspettative individuali
- Una spesa semplice e veloce, perché il Cliente può scegliere tra le varie modalità di pagamento
- Apparecchiatura testata nell'offerta: su richiesta del Cliente effettuiamo le prove prima della spedizione del prodotto
- La possibilità di reso o cambio dei prodotti acquistati
- Grazie alle descrizioni dettagliate e ai criteri di ricerca sviluppati, il Cliente sarà in grado di selezionare i componenti adatti, da solo o con il nostro aiuto.
Mettici alla prova e apriti alle nuove possibilità!